September 11th, 2001 happened to be my day off. Every Tuesday I could sleep a little longer. As I began making breakfast, I turned on the news and saw one of the twin towers get hit by a plane. I assumed it was a trailer for a movie, but when I saw the second tower hit, my initial thoughts vanished, and I knew something terrible was happening in New York, my first home in my adopted country. Like everyone, I was shocked, horrified, and then paralyzed by fear. 
Immediately, everything changed. Traditionally friendly customers, at the gas station I worked at, became angry and looked at me with suspicion. No matter where I was, I no longer felt safe. I knew my life in America would never be the same. In fact, I dreamed about what would inevitably happen to me, three times, before I was actually gunned down.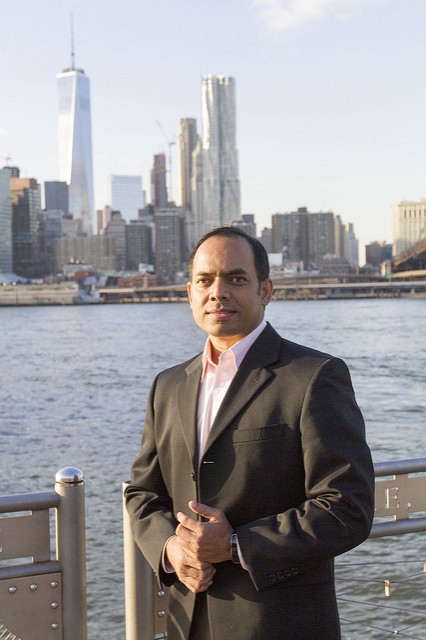 On September 21st, the self-proclaimed True American on a revenge shooting spree, burst into the convenience store, shot me from point blank range, and left me for dead on the cold concrete floor. Though I survived, inexplicable damage remains. There is not a single day I am not reminded of, or impacted by, this painful tragedy and must constantly work to make peace with my pain. Still, I am extraordinarily proud to be an American. It is why, after my shooting, I chose to remain, rebuilding my life in the very place that tore it apart.
Like most Americans, each September 11th brings a rush of emotions. I reflect on how much our country lost that day; the thousands of innocent lives shockingly, and suddenly taken; and how quickly fellow comrades rushed in to aid victims. That most horrific day brought out the best in our fellow community members. 9/11 is indeed a catastrophically tragic day in American history, but it was also a time of extraordinary unity, solidarity, and coming together. Did anyone hesitate because of skin color before running into the burning towers to help others escape? Did anyone pause to ask another about their religion, ethnicity, or socioeconomic background before scooping them into their arms and carrying them further to safety? Did anyone hesitate to donate generously, give blood, or volunteer to comfort strangers?
And yet, 19-years later, that tremendous unity, strong patriotism, and historic fellowship is overshadowed by immense intolerance, fear, mistrust, and hate. In fact, hate crime has reached a 16-year high. Far too many are acting as if we are at war, ready to take the lives of those we do not understand or agree with.  We are fighting against each other rather than working together for justice, equity, and peace for all. Do we truly want to live and raise our children in such an intolerant and hate filled country? 
Today, like you, I live in a free country, but I often wonder, are we all truly free? The only place I feel safe in America is after passing security at the airport. This is not who we are; this is not our America. Our America is great because there is nothing we can't fix or achieve; it's the country where change is possible; it's the country where an immigrant like me could fulfill his dreams after being shot in the face and hitting rock bottom. Americans are capable of extraordinary grace and compassion when they open their hearts to others, as many did for me in the months and years after my attack.
I am here today, in part, because of the man who tried to end my life. When I was able to see him as a human being, and not just a killer, and connected to him with forgiveness and empathy, he embraced me as his brother. It was one of his final requests, asking me to continue the human rights work I had started, helping others get beyond hate and prevent violence.
Where might we start to disrupt cycles of hate and violence? How can we begin to see others, especially those we think are different from us, as human first? A first step towards peace, understanding, and acceptance is teaching ourselves, and each other, empathy. We can then begin to respect others more equally, as human beings, regardless of differences. We certainly don't have to like everyone we meet, but we can, and must, respect others as we want to be respected.
On this 19th anniversary of 9/11, I urge us to recall the strength in unity and patriotism shared during that day of sheer terror, chaos and unknown. We can indeed come back together, stronger and united as one nation, just as we have demonstrated before.
~ Rais Bhuiyan, a post 9/11 hate crime survivor is the founder of World Without Hate, an international speaker, & the subject of The True American, Murder & Mercy in Texas.