Allow me to share a story about this very special person. He's 12. We're in our last season of commuting to school together after seven awesome years.
On Monday morning, I was feeling groggy & slow. When he asked why, I explained that for much of his dad's & my life together, outside of the time when we did 4:30/5am turn-taking wake-ups with little people, his dad, got up each morning, brewed coffee, & brought it to me in bed. Yes, I know I'm spoiled. I explained that his dad isn't one for big grand gestures, we aren't great at the grown-up birthday or Christmas gifts, but I prefer these everyday kindnesses over any one-time big thing. Well, this week his dad's longtime early workout class had changed its start time (grrrrrrr) & it got him home too late for brewing coffee before we needed to leave the house. Yeah, I'm capable of brewing coffee, I'm just not particularly good at it & just haven't had the practice. We went along with our day.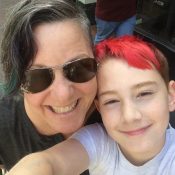 That evening while sitting in our front room, I heard this guy ask his dad to show him how to make coffee. On his own. His idea. He then set his morning alarm 15 minutes earlier than he normally gets up. The following morning, he went downstairs, ground the beans, brewed coffee, & frothed milk. And then he walked it upstairs in my favorite mug. It was without a doubt, the best mug of coffee I've ever had. I have felt its warmth in my chest throughout these past days. Oh, how I love him so.
~Sara Armstrong about her son Finn, New Haven, CT